Get bonus up to RM 138 & Official Burnley Jersey super cool at W88 Sports!
PROMOTION PERIOD:
This promotion starts on 00:00:00 (GMT+8) September 18, 2023 until 05:00:00 (GMT+8) September 24, 2023, applies to all members with registered currency USD, RMB, THB, VND, IDR, INR, KRW, MYR & USDT universal. LIMITED OFFER, first come first serve basis.
HOW TO QUALIFY:
During the promotion period, members need to place bet to the match: 03:00 Sep 24 (GMT+8) | Burnley v Manchester Utd at products: a-Sports, BTi, SABA C & x-Sports to qualify for this promotion.
Minimum bet amount = RM 45/ticket & apply for pre-match and live betting markets.
Based on total stakes of this match, members will have a chance to win prizes as below: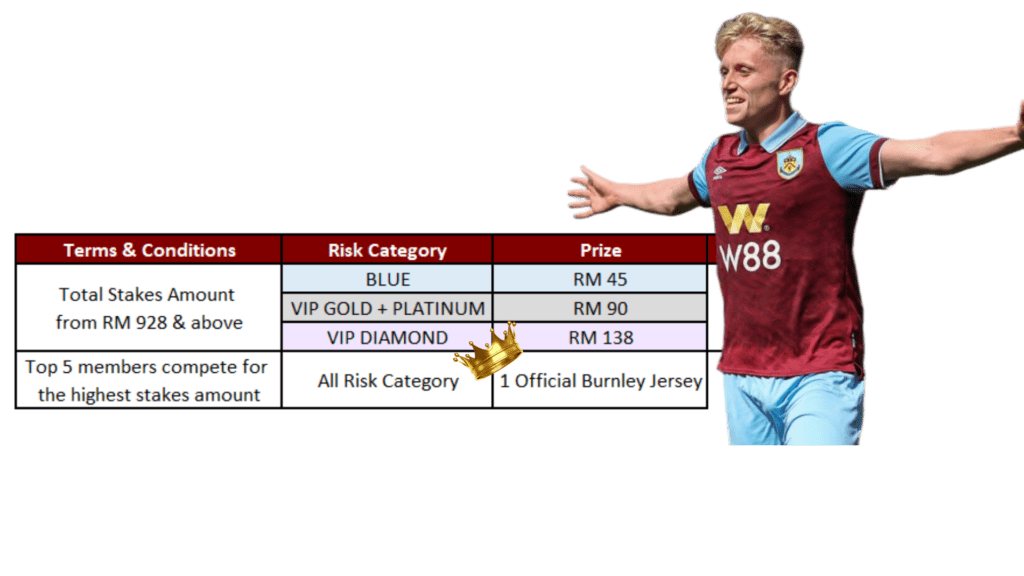 HOW TO CLAIM:
Member needs to click to "CLAIM NOW" button.
W88 will be automatically credited bonus to the qualifying members within 24 hours after match finished.
For the Official Burnley Jersey: W88 will contact the winners to get delivery information and proceed with shipping.
Contact Us
Telegram- W88Malaysia
Whatsapp- +639178393612
Skype: w88cs.help
Email: [email protected]
https://bit.ly/ContactUsW88